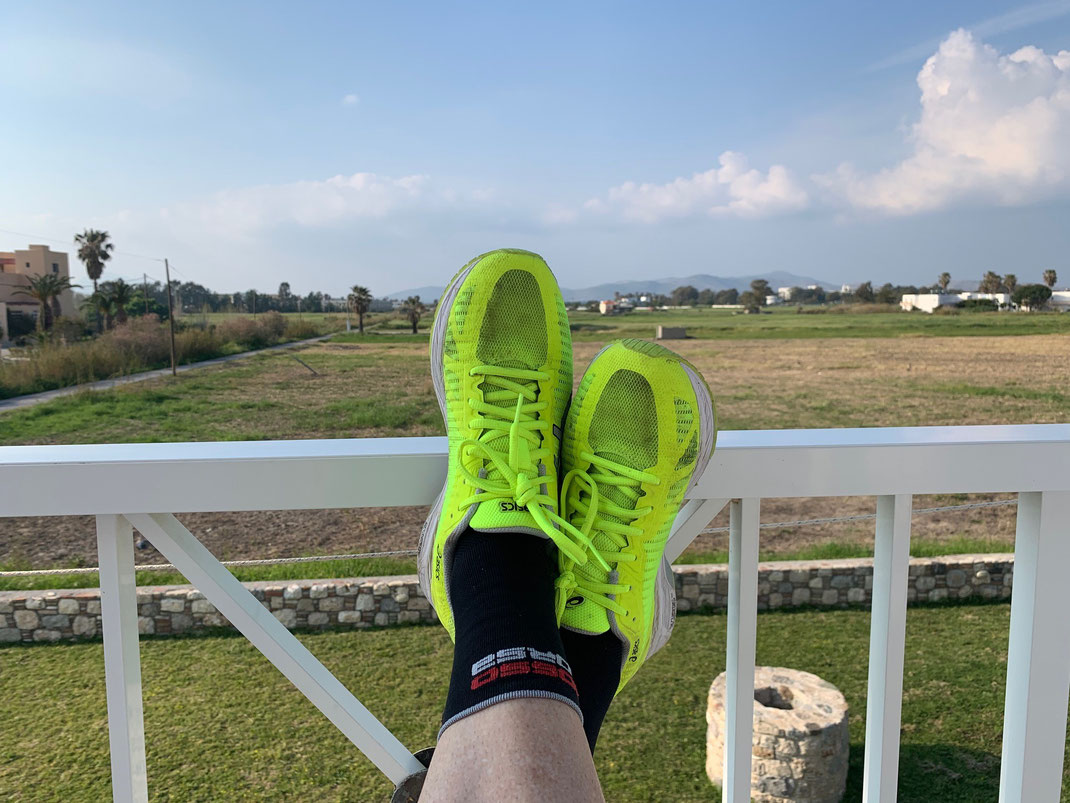 Another week has passed since my last update.
It's springtime, the weather however is still not stable enough and temperatures are still a bit low to spend a lot of time outside.
That's why I started off the week by an hour in the corporate fitness to work on my core stability and stretching my muscles.
I know I will never become very flexible, but doing these exercises twice a week should at help a bit, well, at least it easies my conscience.
This week was split by a couple of business meetings in Athens, a great place to run…..not. or at least I wasn't able to find a nice track.
I left on Tuesday in the morning by plane, packed my suitcase and also took my bike along, which I planned on using at the end of the week.
Arriving in Athens around 13:00 and had my first meeting in the afternoon. After checking in in the hotel, I checked at the reception desk for a possible running track.
The guy at the hotel looked at me and said with a smile;" you really wanna get killed here on the streets of Athens?".
Athens really isn't the best place to run, I already knew that from previous visits, cars everywhere, holes in the streets and pavements where the tiles are never straight and you always have to duck for street marks or light posts. Anyway, I already was in my running gear, so I decided to search for an easy backstreet, where I ran back and forth for a 1'000 times until my watch said "one hour" workout.
That is how I earned my fresh fish with Greek salad and tzatziki.
The next day got up early as usual. Some of you who have done business meetings in Athens know that it is really hard to be on time for meetings in the city, as you never know how the traffic will be.
That's why normally I have no actual meeting time set: it's more like; one meeting in the morning and one in the afternoon.
On top of that, Greeks tend not to wake up early, but in this case it give me some time to work on my E-Mails in the morning, but there were just too many to answer all.
After the last meeting in the afternoon, I headed to the airport for an inland flight to Kos, where I arrived a little after seven.
I planned to take one day off, to spend some more time on the bike than possible at home and ride a bit longer in sunny weather.
Against what I expected, it was quite cold and after checking in at my regular apartment made some "pasta tonno"  and a hot tea and craved for a hot shower.
But somehow, there seemed to be an issue with the hot water in my room, so I called Jorgos who promised to have it fixed the next day, which he did.
Thursday Moring I got up around 8 and took my bike for a 6 hour bike ride around the Island – this felt great although riding with long sleeves and a jacket was not what I expected.
After a little over 115K on the bike later I got changed and ran for another hour around the deserted area of Marmari.
Funny, but at this time of year, there are almost no tourists, as the season doesn't start for another 3 weeks. All Greeks are preparing, fixing and painting to be ready for the summer season.
Later in the afternoon, I catched up with Beat, Alena and their little boy Robin, who just arrived for the season.
Beat I know for almost 20 years and they just arrived on the Island to prepare for another summer season on their beach with the windsurfing station.
The perfect end of a workout day: Pita Gyros and beer at the beach, watching the sunset and listening to Don Henleys "boys of summer" on the speaker……..It really reminded my of the past…;-)
Friday morning I had an easy run for an hour, ran a bit on the beach and did some stretching.
Then packed, headed for the airport and checked in to fly back home with an extreme short stopover in Athens of only 35 minutes, luckily me and my luggage made it.
Then Saturday it was time to unpack, clean the bike and more important, spend time with the family.
Sunday I simply didn't feel like doing anything, as I was still feeling tired of this busy week, but after I stepped in my running shoes and feeling that my legs felt good, I ran for a bit over an hour.
That was a busy week, enjoyed my day on Kos and stopped the weekly counter a bit over 12 hours……
Maybe next week I will take it a bit easier…….