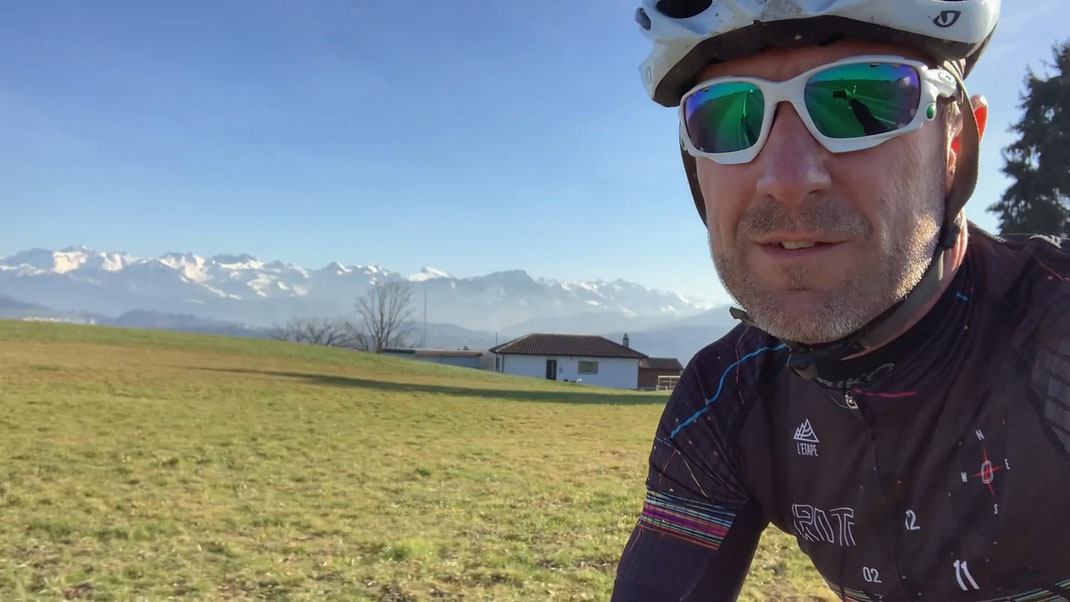 Change of plans, gotta switch an easy week with my 3 week…..
This blog is coming to you out of the mountains at almost 2'000 meters altitude. Yes, this week I am enjoying a week Holidays with my Family. Snow, sun and fun. Last week turned out to be a heavy week: loads of work, a business trip, packing of the holiday and a huge lack of time to work-out. Bus as I already knew this was going to be such a week, I leveled up the intensities of all the work-outs. Putting in more effort makes up for the lack in Hours. 
Monday started of quite promising, a lunchrun at a higher pace than normal followed by an eveing ride with my pals from down-under: Zwift at 20:00 with the AHDR Team. Riding at home, but with the feeling of riding with a group of friends from all over the world - sounds strange but that is what it is.
Tuesday had an early hour of workout in the fitness and worked almost nonstop until 17:00. After playing with the girls, had diner, brought them to bed and started rolling on the taxc again. This time I decided to have my first Alp du Zwift tour. A 32 K ride including a moutain which looks like the famous Alpe d Huez.
21 bends and a little over 1'000 meters of climbing.
Wednesday was once again an early bird in the office, as I needed to finilize a lot of things before the business trip and the week off afterwards.  
The plan was to be home early to pack and spend some time with the girls. But after coming home at 15:00, finding no one at home, I hopped on my racebike for the first tour outside. A nice sunny ride with a magnificent view on the snowy alps. 
Thursday the alarm went at 04:15, early but needed to catch my flight at 06:55 to Düsseldorf. The rental car took me to the meeting in Holland and later that afternoon checked in at my favourite hotel in the eastern part of Holland. This place in the forest just screamed for a long run: then that's what you gotta do. Made it back just in time before the darkness settled, as I forgot to pack my light, lucky me. Enjoyed the diner and went to bed around 23:00, the end of a busy day. The next day I had my flight scheduled at 11:00, so once again an early breakfast and then into the car back to Düsseldorf. Due to some traffic jams I arrived only 50 minutes prior to departure,  so I'd better be fast with checkin in. Unfortunately, there was some kind of security issue at the Airport which led to huge waiting lines for all passengers. Having my priority card didn't help this time: everyone was struggling the catch their flights, so there was no way to make it in time. Just before reaching the check-in in I revieced the SMS from Swiss that my flight was delayed - lucky me! This left me still a lot of time to check-in, pass the security and even answer some mails and answer some missed calls. Instead of leaving at 11:00, the flight departed at 14:45. No need to get all stressed out, as the week was over anyway.  
Back home it was time to unpack and pack, as saturday it was time for holidays! One week of wintersport ahead! But also one week to relax and try to get reset for the last part of this Gigathlon journey. Thinking about reset, made me decide the skip the 12 hour week in this holiday by an easy week. This way I can totally relax, body and mind and also fuel some red blood cells. Hopefully this will give me some extra power when I back next week.
Sunday it was time for the last session on the week. A 45 minutes run at 2'000 meters above sea level. I can tell you this, running in snow at this altitude is not easy, it got my heartrate racing up on no time...… After finishing this week the counter stopped at 7 Hours and 30 minutes, only 2.5 Hours below the plan.
The effort however,  of this weeks programm was perfect, just in line with what I tought I would reach. A pat on the shoulder for myself.
So this week will be a week to relax, do some skiing and get my mind of things, but most of all: anjoy time with my 3 Girls!
See you all next week