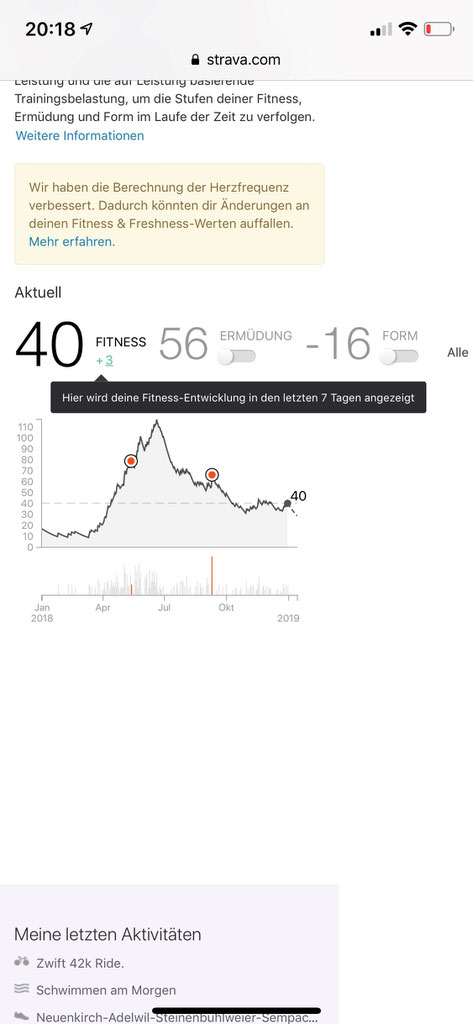 At the end of the year, time to look back and forward.
First of all it is really great to have a week off and another one to go.
Family time, Christmas, nice food, presents and  find sufficient time to work-out.
That is why this week, at the start of block 3 I planned a 7 hour intensive programm. Not the hours, but the workouts should make the diffence and add a boost to my level of fitness.
Started on Monday with a tough run of 14K with 350 meters of uphill, a nice sunny round around Neuenkirch. Then prepared a nice diner and had a good glass of wine. Finally the "Christchindli" came and brought the presents for the girls. It was lovely to see the smiles on their faces and they really loved what they received. 
The next day had on hour intens ride on Zwift - including 3 heavy blocks pushing myself to the limit. The next day we went for a day in the mountains, as that is the only place to get out of the fog. That felt great, the girls had fun and Amalia couldn't stop skiing - lovely to see her moving around and not giving up ;-)
Thursday another (easier) hour on the bike, followed on Friday with another 13K run . Friday eve felt the first time the good feeling of being tired without feeling sore. 
Not being in the water this week meant that Saturday I took it easy, by an hour swim, putting the weekly total to 5.35, still almost 1.5 hours to go. 
Sunday was a really tough work-out on the bike, including 2  half an hour blocks at a tough and steady pace. (for the specialists: each half an hour in 5 minutes block just over and under the FTP) 
After this last session, time to see where my level is at in comparison with last year. For that I use my Polr V800 and Strava. Strava premium has a really nice app, showing the level of fitness, the level of exhausting and it even helps to taper, as it defines your form. My current level, at the end of December lies on the same level as this year in mid-april, so I am really pleased with that. So technically I am 3.5 months ahead of last year, giving me a huge boost to complete this next block of another 2 weeks. Next week an 8 hour week and then the first working week of 2019, a 9 hour work-out week. That will be the first tough test to manage all of that. But hey, I am on the right track and really looking forward to 2019!
See you all next year!