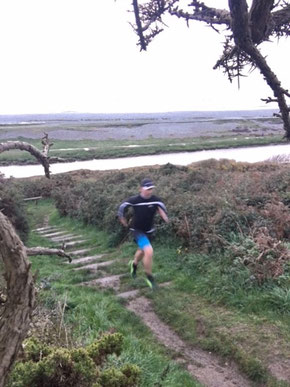 Sunday evening, just home from swimming, time to review this week.
I knew it was going to be a busy and long working week,  the 5 hours of training this week turned out just about being right.
After the lunchrun on Monday, Tuesday and Wednesday were going to be 2 busy days at work.  A customer audit always takes a lot time and needs full attention. The Audit went fine, so I'm happy.  Wednesday afternoon needed some time to gather all the paperwork for the travel to Wales. As I would be spending at least 3 hours in the train, it would offer me time to work on my mails and also do some paperwork on work on some projects.  Then I decided to go for an hour swim on late Wednesday afternoon. Hurried back home, had diner and stayed at home to pack and look after the girls. Nicole went  on her usual swiming eve. As she also likes to work-out, we need to offer eachother that time. 
Thursday, early morning,  the alarm went off at 04:00, some (cereal) breakfast and then off to the Airport. Zürich-Birmingham. Then a 3,5 hour train ride to Aberysthwyth, a small town on the Welsh seaside. After Thursday afternoons meeting, checked in at  one of my favourite hotels. Quickly put on my running gear and went for an autumn trail run. Planned my own route on Strava - a nice extra, I often use for planning routes on my business trips.
The  plan was to run for 17K, but I forgot that in the UK it is getting dark an hour earlier than at home.
So after 10K I had to take a taxi to the hotel, as it was simply to dark to run…...
After Fridaymornings meeting, time to work in the train, as it was again a 3.5 hours train ride back to Birmingham. 
As the plane would leave in the evening, I went to one of the coolest barbershops in the UK. Had a haircut, beardtrim and chose a Bud instead of a Whiskey.;-)
Came home at 23:30, tired…….
Saturdayafternoon, took the bike for a round on my hometrail, stepped on the gas and even got a unexpected KOM - those live Segments are killing me ;-)
Sundaymorning took it easy. Really enjoyed playing with the kids, made lunch, went for a family walk to the waterfalls. The girls found a lot of colorful autumn leaves we took home, for sure it will turn out to be a nice Autumn creation.
Although sunny, I went to the pool for another hour swim. Putting this weeks total just on the right side of the 5 hours.
Next week a 6 hour week to complete.
Will also be on a 2 day Business trip, and yes, I know….. don't forget to pack my sporting gear!
See you next week!