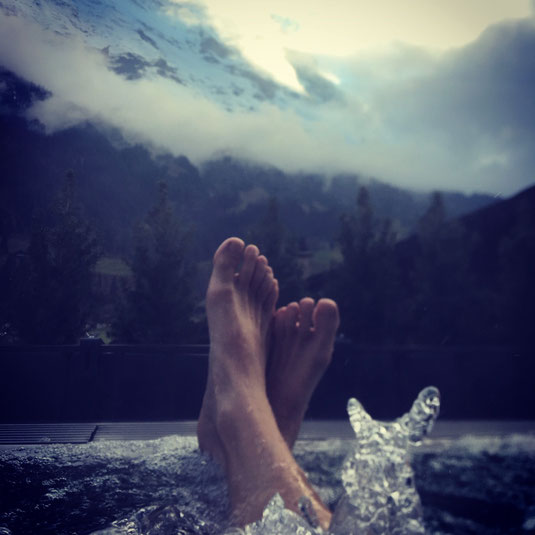 The plan for this week was to start getting used to work-outs and to meet the 5 hour goal of this week. I knew this was going to be easy, as Thursday and Friday were 2 days off. 
The scheduled run for lunch on Monday was quickly killed by a couple of meetings and an urgent phone call. I didn't mind though; it was raining cats and dogs anyway. The 7k run on Tuesday was cold, but at least I kept it dry. Afterwards did some stabi training in our corperate Fitness. The first ab training since a long time: I really need to keep this in the program as the core needs stability. Picked up the girls afterwards and played 4-in a row. Even lost a couple of games….;-(
Thursday was our annual weekend without the the kids. This year we chose to stay in the Glacier Hotel in Grindelwald. Mountains, wellness and nice food. And of course time to spend quality time with Nici.  Being still fitter than me, she proposed to make a short run around the hotel. My pulse racing up - at least the legs felt OK. Friday we went on a nice hike up the Kleine Scheidegg. A 3 Hours walk climbing in total 1'200 meters. The altitude helped bringing in the first feel of winter, snow! 
After pickung up the girls on Saturday, we played, danced, puzzeled and then made a typical dutch diner: Boerenkool met worst. 
Sunday, still a couple of minutes away to my 5-hours Goal, we went for Swimming. Half an hour and 1'500 meters later it was time to swim with Naora in the "Cold" water. meaning the deep end. <She was doing great. Late afternoon I even found some time to spend on the taxc. Rode a part of the video San Salvador on Mallorca. This set the total for this week 5:38. Nice on schedule.
Next week again 5 hours on the program. Going to be a busy working week: a 2-day Audit at work and then a 2 days business trip to Wales.  Better not forget my running shoes. 
See you next week!